Semicolon LLC
Main Page
News
Products
Downloads
Support
Purchase on the Web
Visit Our Friends
Talk To Us

Articles
Successful Shareware
What Is Shareware?
Winning at Solitaire
Cannonball Express
---

"Freakin' Awesome!"
MacAddict
---

"Beautifully organized and rendered ... In a nutshell, solitaire lovers:
Download now."
Chris Oakes,
MacUser Software Central
---

"Here is where the good solitaire games get separated from the great solitaire games. The interface was fantastic."
Gregory R. Birgfeld
GameGrabber
---

---

"This game is beautifully implemented ... the perfect solution for anyone wanting to play Solitaire on their Mac"
Games4Mac
---


"Imaginitive graphics are just one highlight of these games"
File Mine
---

Four Cows
TuKids
---

---

---

---
"Computer solitaire is the biggest blow to productivity that the world economy has ever seen (except for that pesky Black Death in the 14th century), and Solitaire Till Dawn does its part to bring slacking at work to the Mac."
MacAddict
---
"Solitaire Till Dawn is a great example of the many varieties of Solitaire... There's a reason he called it 'Solitaire Till Dawn!'"
MacToday
---
"This is the all-time, drop-dead, must-have solitaire program"
Owen W. Linzmayer ,
Owen Ink
---
"You can't claim solitaire bragging rights until you've mastered the incredible variety of games in this package."
Liz Enbysk
ZDNet AnchorDesk
---
"My favorite gift this season is a piece of shareware called Solitaire Till Dawn ... I can spend hours playing it."
Harvey Barnett ,
TidBITS
---
"Here's a great all in one package of games"
MacShare
Solitaire Till Dawn
for Mac OS 7, 8, and 9
Also available for modern Mac OS X
and for Mac OS X 10.5 and earlier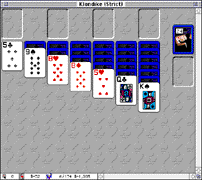 [Click here for a tour, with full-size screen shots]
Solitaire Till Dawn is the premiere shareware solitaire program for the Macintosh. It offers 40 different varieties of solitaire, with a simple drag-and-drop user interface and beautifully drawn cards. It has all the features you want in a solitaire program!
Solitaire Till Dawn is shareware. Download it and try it out for a week or two! If you don't like it, just throw it away. If you do like it, please support shareware and send in your payment; full instructions for payment are included in the package you download.
[Requirements ] [Features ] [List of Games ] [Tour ]
[Tips for Winning ] [Rules Online ] [More Links ]
---
Latest Version: Solitaire Till Dawn 4.0.1 for Classic Mac OS. Also available for modern Mac OS X
Requires: Mac OS 7, 8 or 9. Runs on any color-capable Macintosh.
---
Features
Cards and Patterns - Choose from many different card designs and window background patterns.
Smart Cards - Just click a card to send it to its destination.
Tell Me When I'm Stuck - Notifies you when you've lost. Get on to the next game quickly!
Unlimited Undo and Redo - Take back moves as much as you like, even back to the start of the game! If you go back too far, just redo them again. Your move history is saved when you save a game, so you'll never lose it.
Save Games - Save your games in individual files whenever you like. Auto-saves your current game when you quit.
Scoring and Statistics - Automatically tracks your successes in each kind of solitaire. Stats and scores are customized for games with special scoring systems.
Online Rules - View a summary of the rules for each game, just by selecting Rules from a menu.
Magnetic Mouse - Play with almost no need to click the mouse or press a key. Great for RSI sufferers!
---
The Games
The games vary from the very simple to the very complex. Your favorites are here, along with some you may never have seen before. In fact, two of the games were invented especially for Solitaire Till Dawn! Some are easy to win, some almost impossible to win. Some require little or no strategy, for those times when you just want a little relaxation. Others offer great rewards to the strategic thinker, for those times when you want a challenge.
(Many solitaires have more than one name. For each game, we've listed all the alternate names that we know of.)
Accordion (Idle Year, Tower of Babel)
Aces High (Aces Up, Idiot's Delight)
Baker's Dozen
Beleaguered Castle
Bisley
Calculation (Progression)
Canfield (Fascination, Demon, Devil's Own; incorrectly called Klondike)
Chessboard (Fives)
Eight Off
Flower Garden (The Garden, Bouquet)
Fortress
Forty Thieves (Big Forty, Napoleon at St. Helena, Roosevelt at San Juan)
FreeCell
Golf
Grandfather's Clock
Grandma's Game
Klondike (Chinaman, Fascination, Triangle; incorrectly called Canfield)
Klondike (a different variant, with stricter rules)
La Belle Lucie (Alexander the Great, Clover Leaf, Midnight Oil, Three Shuffles and a Draw)
Manx
Miss Milligan
Montana (Gaps)
Mount Sunflower
Pyramid
Quadrille (Captive Queens, The Queen's Lace Handkerchief)
Spider
Spiderette
Tabby Cat
The Towers (Seahaven Towers)
The Wish
Thirteens by Randy Rasa
Trefoil
Yukon
Yukon (a different variant, with stricter rules)
---
Winning at Solitaire
Want to improve your solitaire scores?
"Winning at Solitaire" is a series of articles, each teaching the winning strategies for a particular kind of solitaire. Each article will include a sample game that you can load into Solitaire Till Dawn, one that's been played to a win by an expert. The article will explain the important moves and choices in the sample game, and you can watch the expert play the game while you read his notes on how he won.
Here's our list of articles, with more to come soon:
---
Rules for Solitaire
Full rules for all games in Solitaire Till Dawn are available here:
Rules for All Games
---
More Card Games
Here are links to some great solitaire and card game sites -- just in case Solitaire Till Dawn doesn't quite eat up all your spare time!